Hi, I'm Adriel. Welcome.
Originally a tree hugger from Oregon, I now enjoy inner city life in Sydney, Australia with my Aussie husband and three spunky boys. We're a happy little tribe. Together we are urban missionaries, as well as the Co-Founders of YWAM Sydney Newtown.
I'm a writer, speaker, bible teacher, and mentor with a passion to help people connect with Jesus, find their place in the world, and usher in the Kingdom through everyday spirituality. I love helping people find a sense of purpose where their gifts and passions collide with the needs of the world. I'm also the lead advocate and visionary behind the Love A Mama Collective—a community of women empowering women through maternal health initiatives in developing nations. Theology, parenting, world events, women's issues, birthy stuff, and politics—these are the topics that get me most excited. (Wonderful, light dinner conversation, no?)
When not taking myself too seriously, I can be found traveling, thrifting, lounging at the beach, digging through bookstores, playing Lego with my littles, attempting to read twelve books at once, rearranging furniture, listening to crackly jazz records, or wishing I could sleep in a bit longer. If we get to have coffee together sometime, ask me about the year we lived in a 95-square-foot vintage camper with our family of four and then moved into a nine bedroom fixer-upper boarding house. I promise you we'll laugh.
We have a beautiful life, but that doesn't mean we're unacquainted with hardship or pain. I've lost three babies to miscarriage and have a deep conviction to help others grasp a theology of suffering in order that we can better understand Jesus and the world around us. I've learned that suffering and joy don't have to be at war with one another, and both lead us straight back to the heart of God if we're willing.
My first book, Grace Like Scarlett: Grieving with Hope after Miscarriage and Loss, releases with Baker Books on May 1, 2018—just in time for Mother's Day, which I'm thrilled about. It's the story of how God births beautiful things out of our heartache, but mostly, it's the story of us—you and I and the sisterhood of the bereaved—and the hope that our beautiful Jesus offers.
Whether you're here as a new mom, an advocate for women's issues, a bereaved parent, a DIYer, a tiny house fan, a globe-trotter, a birth junky, a party planner, a faith seeker, or a mom in need of encouragement, I hope you'll find something that makes your soul breathe 'yes' among these pages. Welcome.

CONNECT :: email | facebook | twitter | pinterest | instagram
Please allow me to introduce you to the people that make my little world go round: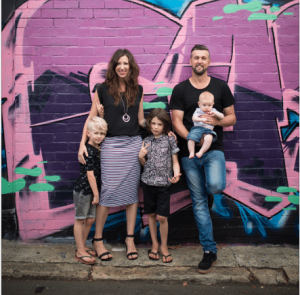 Ryan, my tall, strong, wise, sports-loving, Mr. Fix-It, pastor husband who also scrubs toilets and bakes apple pies and brings me flowers "just because." He is patient and kind and absolutely committed to our family, Jesus, and serving others—the kind of guy who will look into a stranger's eyes and ask, "How are you doing, really?" and minutes later they will be crying as they share their life story with him. He both lifts me up and grounds me and is far more than I ever hoped for in a husband and best friend. Meeting and marrying him was an absolute game-changer. And by game-changer I mean the best thing that ever happened to me. Literally.
Levi Scott, my dramatic, sensitive, opinionated, animated, bike-riding, book-devouring, music-loving, beat-boxing, alway-grooving, risk-taking, adventuring, deep-question-asking, fiercely-compassionate, justice-seeking, brown-eyed, silly boy who captured my heart and made me a mom. He changed everything and might always be my most intense teacher (since he's so much like his mama). I adore him and am amazed by him constantly.
Judah Matthew, my passionately loud, determined, strong, jumping-running-climbing, smart-as-a-whip, hilarious, creative, artistic, mama's boy with the white-blonde hair and clear blue eyes and one-sided dimple and the smile that just might take your breath away if you're caught unaware. My little lover boy. He's got energy and spunk and so much personality. When he invaded our world everything changed all over again.
Micah Ezekiel, my gorgeous little baby—the strongest, sweetest, little bundle of joy whom we're still getting to know. He makes my heart flutter and reminds me that there's no one like our God. (The name Micah means 'who is like our God?')
And my other babies, born between Judah and Micah: Scarlett Grace, Oliver David, and Ruby Hannah—my darling little ones that we never got to meet or hold but who helped us see grace and know peace and find joy and embrace suffering and lean into community and pursue Jesus and learn to live all over again. When our precious babies came and left, it changed everything. Again. We love and miss them dearly and can't wait to hold them in our arms one day.
"Yet I still belong to you; you hold my right hand… My health may fail, and my spirit may grow weak, but God remains the strength of my heart; he is mine forever." (Psalm 73:23, 26)
Over and over throughout my life I've seen that whatever the circumstances may look like, whatever I've done (or not done), whatever decisions I've made, passions I've pursued, opportunities I've seized or ignored, or successes or failures I've had… God has been there calling me his own, holding my hand. My whole identity centers around that fact—I'm His; I belong. This blog exists so that women can come here and find a place where they belong, too.     continue reading>>>