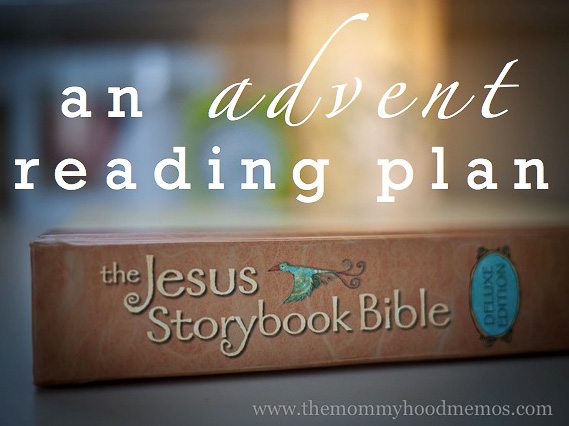 Now that my birthday has come and gone I'm ready to think about the holidays.
Truth be-told, I think about them all the time – I'm one of those year-long Christmas shoppers. (I don't the like pressured last minute dash or the strain on the bank account of leaving it all until December.) But even though I do my shopping year-round, I try not to think too much about the parties and traditions and celebration aspect of it all until closer to Thanksgiving.
Before Thanksgiving I usually set some plans in place (like how to de-clutter the house before Christmas), but it's not until after our Day of Thanks that I love to get the tree up, the house "decked", pull out the Christmas story and songbooks, and begin to blast the Christmas music in full force.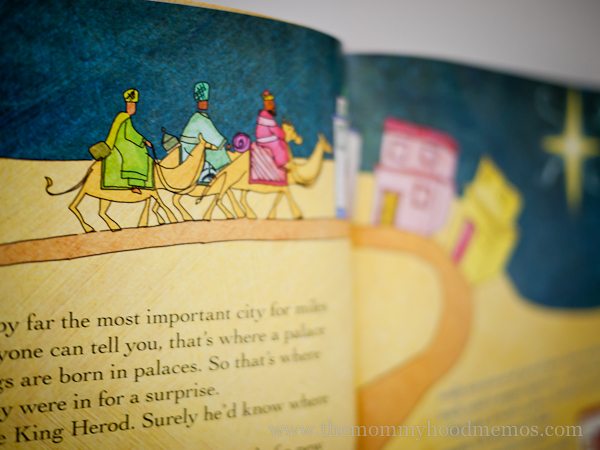 Although we have an Advent "calendar" that I've done for several years already (need 150+ Advent activity ideas?), I've mostly used it for fun family activities and little chocolates. I will do the same this year, but now that Levi is nearly three I'm also excited to introduce more of a purposeful 'spiritual' focus as well. (I say 'spiritual' because it's also my belief that fun is spiritual! But you know what I mean, right?)
I want the lead-up to Christmas to be full of parties and merriment and festivities, but also have a quiet and reflective element to it as well. There is certainly joy and worship in both approaches, so I hope to find a blend that works well for our family.
This year we're going to use the Jesus Storybook Bible:
Have you read it? It's seriously inspiring. The stories are so beautifully written and the illustrations are simply gorgeous. I love reading it as much as our littles do.
Really, really I do.
I recently learned from this blog (God bless her!!) that there are twenty-one stories it in from the Old Testament—each ending with a paragraph that ties in to the imminent birth of Jesus—and then three stories from the New Testament leading up to (and surrounding) the birth story of Jesus.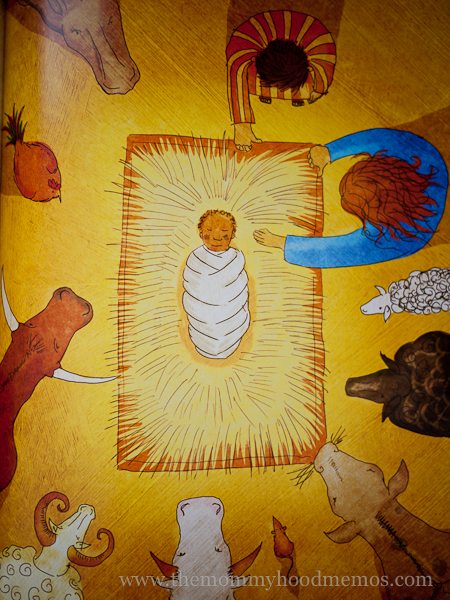 I wonder if the book's authors planned this perfect 24-day reading plan for December leading up to Christmas? (Whether that was purposeful or not, no doubt Someone inspired their imaginations as they wrote. Love it.)
For our advent activity, the kids will get to visit the "calendar" twice: In the morning will be a note with a family activity for the day (as we've been doing in year's past) and at night will be a note that says, "The story we get to read tonight is…"
Here is the Jesus Storybook Bible "reading plan" that we'll be following for Advent: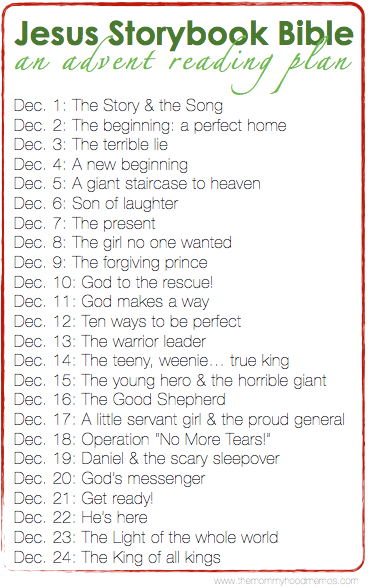 Download: Jesus Storybook Bible printable reading plan for Advent
Dear friends, do you observe Advent with your littles? What do you do?
P.S. And to those of you who still need a great idea for a Christmas present, support Project Baby Bilum by purchasing this or this gorgeous sling and give a gift with some heart – that will bless a mama in your life and one in the developing world! LOVE.
Related:
Pin It